A friendly public service announcement to the droves of Mac-toting netizens out there who browse the webs with an inflated sense of security:  Your system is weak.  Whether or not you decided to ignore the warning signs and upgrade to the latest OS X 10.5.7 recently, you are all equally susceptible to an exploit that has been public knowledge for quite a while now:
Unfortunately, it is still not patched in their latest security update from just a few days ago. I believe that since this vulnerability has already been public for almost 6 months, making MacOS X users aware that Java needs to be disabled in their browser
It's a myth that Macs are impervious to the banes of the internet y'know.  There's aleady an all-Mac botnet out there, doing god-knows-what (probably algorithmically generating newer, more inane Mac vs. PC ads).  So get off your Mac-induced high horses, open up Preferences for whichever browser you are using, and disable Java.  For most of us, we wont miss it.
In Firefox3.x, open preferences ( + ,) select Content, and deselect the checkbox next to Java, as seen below:
In Safari, open prefs ( + ,) select Security, and deselect the checkbox next to Java, as seen below: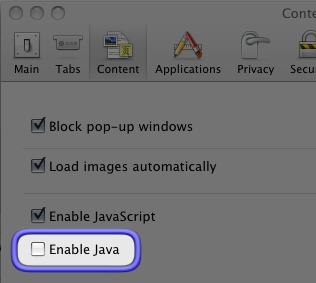 Thank you.  This message has been brought to you by the concerned citizens group WHAPTH!? (Why Hasn't Apple Patched This Hole!?).