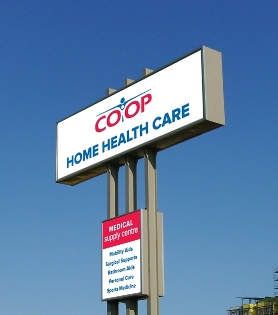 Good idea?  Bad idea?
Heck, i'm just excited to see this being seriously considered on the national stage.  Adopting a cooperative health care system in this country isn't exactly taking baby-steps, but it is introducing the concept, and the ideals, to the standard-American whose sole source of new ideas is what comes down the pipe and into their TV sets.  Most view Conrad's co-op proposal as a compromise to the partisan deadlock over how to address healthcare, rather than a solution to our current healthcare crisis.  But "Conrad's Compromise" goes beyond party line-dancing and offers some real solutions, primarily, a vision for a healthcare provider that would actually have the best interests of the public at it's core, and would have internal measures to ensure that it always stayed that way.
There are more articles to read, but not much.
From the NCBA:
As Congress debates what shape health care reform will take, the cooperative business model has entered prominently into the discussion. Cooperatives save money for members by aggregating demand for specific services, whether it's health insurance, pharmaceuticals or hospital supplies. For example, in a health insurance purchasing cooperative, consumers or businesses can band together to purchase private health insurance policies in bulk, passing savings along to members. Cooperative health care providers also save money for members because, in addition to buying in bulk, the not-for-profit cooperative does not answer to outside investors.
Here's some vid of the man with the plan:
http://www.youtube.com/watch?v=Mz9VNjUYM78
Here's what the naysayers are starting to say:
UPDATE from NCBA (emphasis is mine):
June 26, 2009

Dear members and friends of NCBA:

Congress and the Obama Administration are in the midst of intense negotiations over the way in which our country will have access to affordable health care.

Two weeks ago, Senator Kent Conrad (D-ND) proposed using health insurance cooperatives as a means to achieve this reform. Conrad's plan would establish a consumer-owned, non-profit health insurance cooperative in every state. Those states with smaller populations could join into regional cooperatives to aggregate the necessary purchasing power.

To those of us who have long advocated for cooperatives, this is very exciting. Yet this sort of attention also poses challenges to our business model that we should be aware of.

One of our concerns is that these insurance cooperatives wouldn't reflect the definitions of a true cooperative. Millions of people will be confused if a health insurance provider is called a co-op but is not membership-owned and -controlled.

There's also cause to be concerned about the potential failure of a cooperative health insurance plan. Many health policy analysts, journalists, bloggers and members of Congress have questioned the cooperative business model's capacity to deliver health care to the uninsured, and have harshly condemned anything other than a publicly financed plan.

As the language of the debate intensifies, it's paramount that we remind all those involved that, whether or not health care reform takes place with a cooperative model, the business model itself should not be the subject of attack. The cooperative business model has lifted millions of people out of poverty, delivering unavailable services from electricity to organic food; it should not bear the brunt of an intense political and media fight.

No matter where we sit on the political spectrum, we have an obligation to defend our cooperative model.

NCBA is making sure this happens on a national level. We're working with Senator Conrad and other members of Congress to ensure several points are incorporated into any health cooperative:

If the term cooperative is used, the business must be a true cooperative. It must be based on our seven principles, contain our common values and be owned and controlled by its members.

A federated system, where local or state cooperatives are part of a larger cooperative, should not be ruled out. These types of organizations have been successful in other co-op sectors.
Federal dollars, whether through loans or grants, are critically important in any such cooperative's development. This is consistent with previous government efforts to help establish cooperatives.
Such a large number of health care cooperatives will need a similarly large amount of technical assistance for their development. NCBA is in the position to provide Congress access to a wide network of professional cooperative developers and specialists around the country who have experience setting up cooperatives.
The unique tax structure of cooperatives must be accounted for and accommodated in any cooperative insurance proposal.
The cooperative must have adequate protection from demutualization.

We're also working with the media to ensure that these points, paramount to any discussion about cooperatives, are not left out of the discussion.

We know that several health care cooperatives are operating in the U.S. today with great success. And we know that in the past, several health care co-ops have failed.

We also know that the cooperative business model does not have any "magic" that will rectify the foundations of a poor business plan. The real magic in a cooperative lies in the people who are dedicated to creating a well-designed business that serves its members' needs, without the interference of and obligation to outside investors.

Health care reform has caused a wave of interest in cooperatives, both in the public and in the media, and because of this, the co-op world has grown rightfully excited. But in order to protect the public integrity of our business model, we'll need your help.

Here's what you can do:

Get the information. Visit NCBA's Web site, www.ncba.coop, and look on the homepage for the excerpt on health care from the University of Wisconsin's study on the economic impact of cooperatives. You can also browse the "About Cooperatives" section of our site to learn about health care co-ops, and in the "News and Publications" section, under "News Releases," you can view the public statements NCBA has made for the media.
Respond to the bloggers. Any time you read someone misrepresenting cooperative businesses, or simply discussing them in a public forum, add your voice and cooperative experience to the discussion.
Contact the media. Health care reform is a huge story right now, and media outlets are happy to hear from the public. Call up TV and radio stations to voice your opinion, and write letters to the editors of publications that cover health care or co-ops.
Weigh in at your co-op's board meeting or in your community groups.

This is a very exciting time for the cooperative community, perhaps the only opportunity many of us will have to make a fundamental change in the direction this country. As NCBA continues to work on the issue, we welcome your input and assistance.

If you'd like to reach me, please e-mail me at info@ncba.coop.

Thank you.

In cooperation,

Paul Hazen
President & CEO
via NCBA