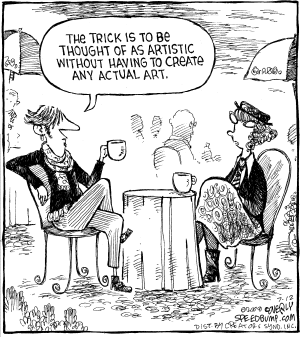 Basically, Portland is overrun with artists and creative types, which is great, because it really deepens the culture of our city!  Not so great for the creatives however, who fight to find a niche, notoriety, or simply a wall to hang their work on.  It's competitive in the art world, no matter where you live.  Portland artists need not despair however, there are MANY arts foundations, grants, and resources available, just look at all our firsts and lasts (Last Thursday, First Thursday, First Friday, etc.).  In addition to street fairs we have cafés, WOW! do we have cafés!  O!  And bars!  Most of which have walls.  Most of those walls would look better with your art hanging off it.
Given the arts-loving environment in Portland, you'd think it'd be easy for an artist to showcase her work, or actually make a living doing what she does best, but that's not typically the case. Many local artists make income through online sales, and attempt to show their work in other states and countries for maximum exposure. While Portland is indeed an incredible place for the arts in many respects, it's still a challenge for an artist to show, perform or even gain traction when just starting out.
This is a great article on portland-area resources for artists and up-and-comers. Special props are for Portland Stock which gets mentioned in the article because they are WONDerful, and truly putting the economic engine behind art into the hands of the People! Using democracy! And it's working! Which i Love.
In addition to Portland Stock, read about Portland City Art, Regional Arts and Culture Council, and several important resources for staying plugged into "the scene".   From the article:
So check out the full article, and GO SEE SOME ART!
9 Essential Resources for Portland Artists via Neighborhood Notes