Reward Volunteers® — A volunteering app for iPhone and web – An iphone app by Cabot Cooperative Creamery that lets volunteers keep track of their labor for the org.s they volunteer for, as well as letting the org.s manage their volunteers' time.
Here's a screenshot: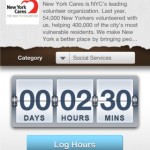 Pretty nifty concept!  Love seeing solutions that work for lot of different co-ops.